Box-and-Whisker Plots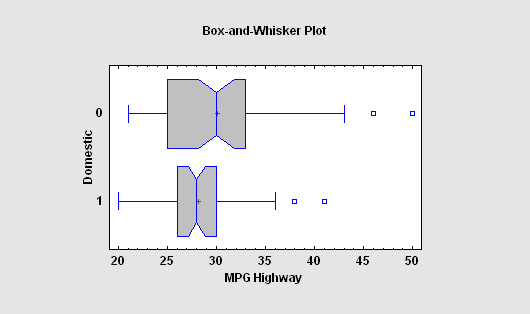 Box-and-whisker plots are graphical displays based upon Tukey's 5-number summary of a data sample. In his original plot, a box is drawn covering the center 50% of the sample. A vertical line is drawn at the median, and whiskers are drawn from the central box to the smallest and largest data values. If some points are far from the box, these "outside points" may be shown as separate point symbols. Later analysts have added notches showing approximate confidence intervals for the median, and plus signs at the sample mean.
More: Box-and-Whisker Plot.pdf, Multiple Box-and-Whisker Plot.pdf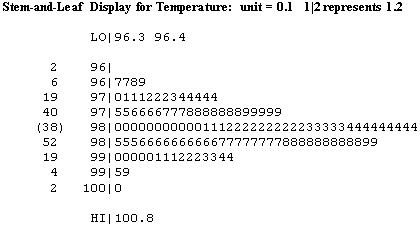 Stem-and-Leaf Display
Stem-and-leaf displays take each data value and divide it into a stem and a leaf. For example, the temperature of the first subject in the data sample to the left had a body temperature of 98.4 degrees. The first two digits ("98") are called the stem and plotted at the left, while the third digit ("4") is called the leaf. Although similar to a histogram turned on its side, Tukey thought that the stem-and-leaf plot was preferable to a barchart since the data values could be recovered from the display.
More: One Variable Analysis.pdf
Rootogram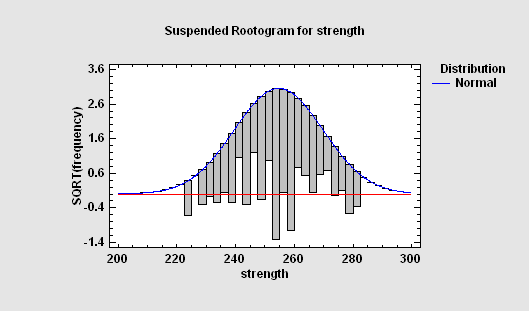 A rootogram is similar to a histogram, except that it plots the square roots of the number of observations observed in different ranges of a quantitative variable. It is usually plotted together with a fitted distribution. The idea of using square roots is to equalize the variance of the deviations between the bars and the curve, which otherwise would increase with increasing frequency. Sometimes, the bars are suspending the from the fitted distribution, which allows for easier visual comparison with the horizontal line drawn at 0, since visual comparison with a curved line may be deceiving.
More: Distribution Fitting (Uncensored Data).pdf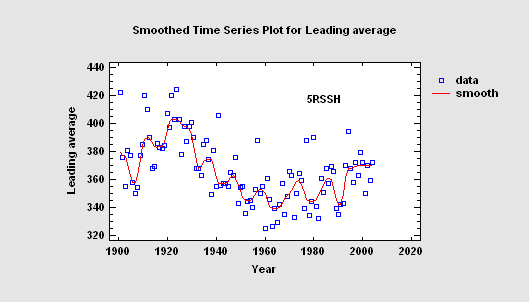 Resistant Time Series Smoothing
Tukey invented a number of nonlinear smoothers, used to smooth sequential time series data, that are very good at ignoring outliers and are often applied as a first step to reduce the influence of potential outliers before a moving average is applied. These include 3RSS, 3RSSH, 5RSS, 5RSSH, and 3RSR smoothers. Each symbol in the name of the smoother indicates an operation that is applied to the data.