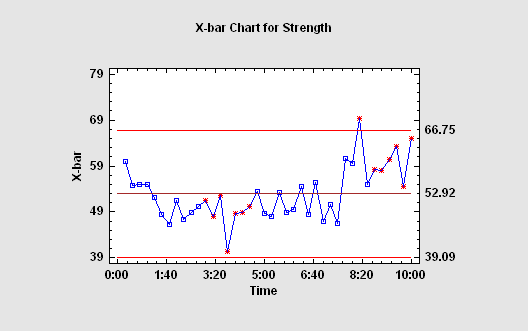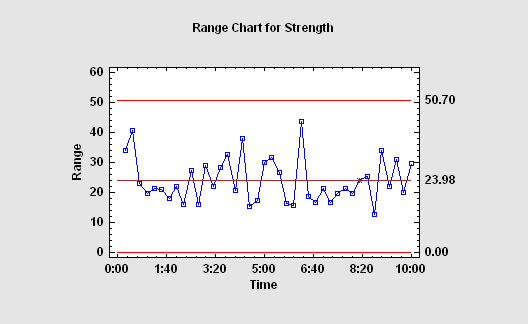 Basic Variables Charts
The classical type of control chart, originally developed back in the 1930's, is constructed by collecting data periodically and plotting it versus time. If more than one data value is collected at the same time, statistics such as the mean, range, median, or standard deviation are plotted. Control limits are added to the plot to signal unusually large deviations from the centerline, and run rules are employed to detect other unusual patterns.
More:X-Bar and R Charts.pdf, X-Bar and S Charts.pdf, X-Bar and S-Squared Charts.pdf, Median and Range Charts.pdf,Individuals Control Charts.pdf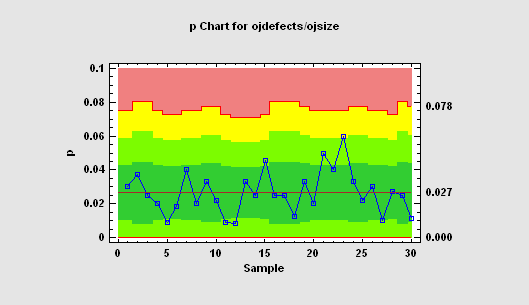 Basic Attributes Charts
For attribute data, such as arise from PASS/FAIL testing, the charts used most often plot either rates or proportions. When the sample sizes vary, the control limits depend on the size of the samples. On most control charts, colored zones may be used to indicate the distance to 1, 2, and 3-sigma.
More:P Chart.pdf,NP Chart.pdf, U Chart.pdf, C Chart.pdf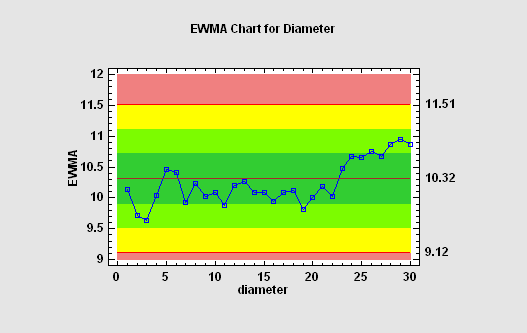 Moving Average and EWMA Charts
When data are collected one sample at a time and plotted on an individuals chart, the control limits are usually quite wide, causing the chart to have poor power in detecting out-of-control situations. This can be remedied by plotting a weighted average of the data instead of just the most recent observation. The most common "tme-weighted" charts are the moving average (MA) chart and the exponentially weighted moving average (EWMA). The average run length of such charts is usually much less than that of a simple X chart.
More:Moving Average (MA) Charts.pdf, EWMA Charts.pdf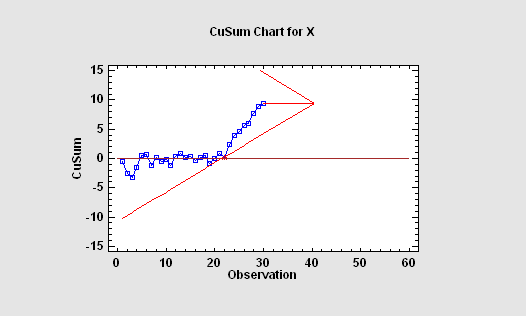 Cusum Charts
A useful chart for plotting measurements from a continuous process is the CUSUM chart, which plots at each time point the sum of all deviations from a target value up to and including the most recent observation. When the "V-mask" format for a Cusum chat is used, the process is deemed to be in control if all points on the chart fall within the mask. If any points fall outside the mask, as in the chart at the left, then an out-of-control alert is generated.
More: Cusum Charts (V-Mask).pdf , Cusum Charts (Tabular).pdf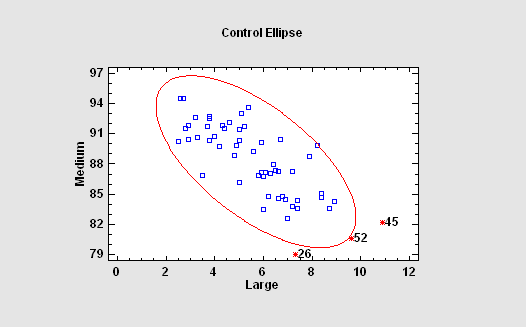 Multivariate Control Charts
When more than one variable are collected, separate control charts are frequently plotted for each variable. If the variables are correlated, this can lead to missed out-of-control signals. For such situations, STATGRAPHICS provides several types of multivariate control charts: T-Squared charts, Generalized Variance charts, and Multivariate EWMA charts. In the case of two variables, the points may be plotted on a control ellipse.
More:Multivariate T-Squared Control Chart.pdf, download="">Multivariate EWMA Control Chart.pdf