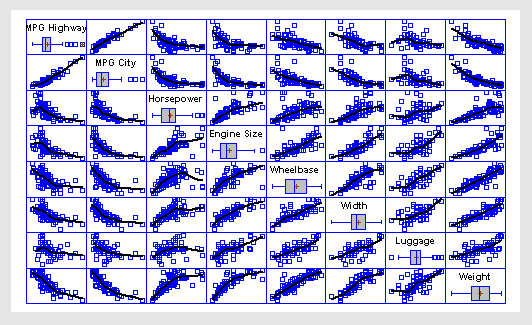 Matrix Plot
Our data visualization software can produce matrix plots that are used to display all pairs of X-Y plots for a set of quantitative variables. With multivariate software, these are a good method for detecting pairs of variables that are strongly correlated. It is also possible to detect cases that appear to be outliers.
The matrix plot at the right has two additions:
1. A box-and-whisker plot for each variable in the diagonal locations.
2. A robust LOWESS smooth for each plot, which highlights the estimated relationships between the variables.
More:Matrix Plot.pdf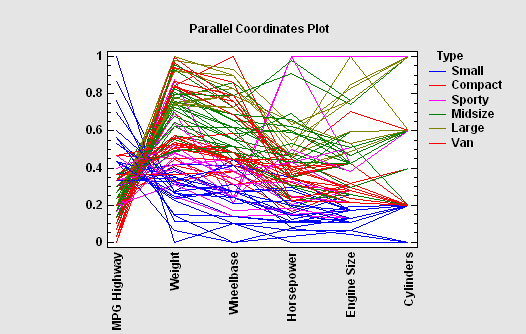 Parallel Coordinates Plot
The Parallel Coordinates Plot is a multivariate visualization technique that can be very useful in identifying differences and similarities amongst observed cases when the number of dimensions is too large to use a standard scatterplot using data visualization software. Statgraphics multivariate software uses the line for the i-th row to connect the standardized values of each variable in that row, where the standardized value equals the observed value minus the sample mean of that variable divided by the sample range.
More: Parallel Coordinates Plot.pdf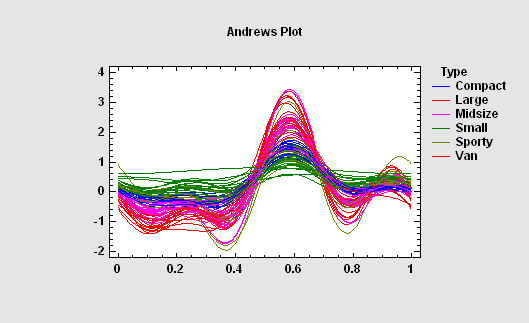 Andrews Plot
The Andrews Plot is similar to the Parallel Coordinates Plot, except that it encodes the information for each variable on a sine or cosine with different frequencies.
More: