Scatterplot Smoothing
X-Y scatterplots may be smoothed using any of several methods: running means, running lines, LOWESS (locally weighted scatterplot smoothing), and resistant LOWESS. Smoothers are useful for suggesting the type of regresson model that might be appropriate to describe the relationship between two variables.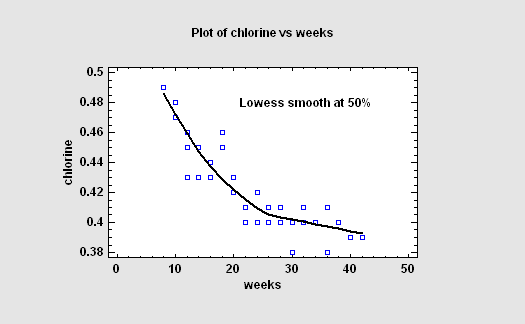 More: Graphics Options.pdf
Median Polish
The Median Polish procedure constructs a model for data contained in a two-way table. The model represents the contents of each cell in terms of a common value, a row effect, a column effect, and a residual. Although the model used is similar to that estimated using a two-way analysis of variance, the terms in the model are estimated using medians rather than means. This makes the estimates more resistant to the possible presence of outliers.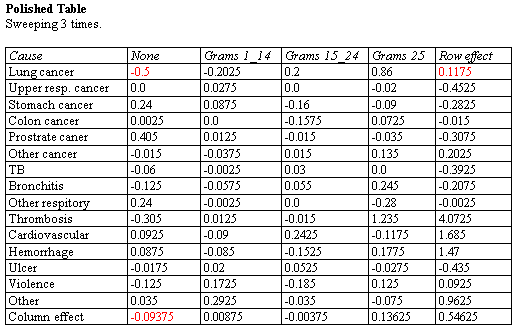 More: Median Polish.pdf
Bubble Chart
The Bubble Chart is an X-Y scatterplot on which the value of a third and possibly fourth variable is shown by changing the size and/or color of the point symbols. It is one way to plot multivariate data in 2 dimensions.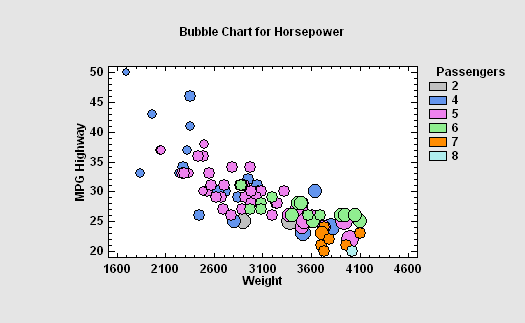 More: Bubble Chart.pdf
Resistant Curve Fitting
Tukey proposed a method for fitting lines and other curves that is less influenced by any outliers that might be present. Called the method of 3 medians, the data are first divided into 3 groups according to the value of X. Medians are then computed within each group, and the curve is determined from the 3 medians.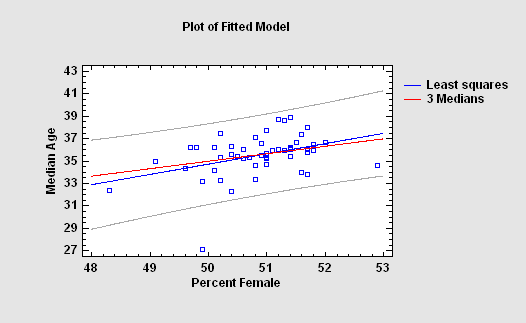 More: Simple Regression.pdf
Multi-Vari Chart
A Multi-Vari Chart is a chart designed to display multiple sources of variability in a way that enables the analyst to identify easily which factors are the most important. This exploratory data analysis technique is commonly used to display EDA data from a designed experiment prior to performing a formal statistical analysis.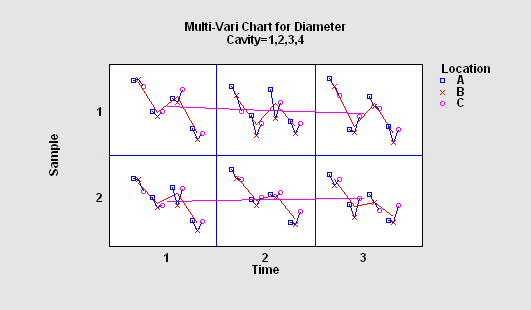 More: Multi-Vari Chart.pdf
Violin Plot
The Violin Plot Statlet displays data for a single quantitative sample using a combination of a box-and-whisker plot and a nonparametric density estimator. It is very useful for visualizing the shape of the probability density function for the population from which the data came. A separate procedure is available for creating violin plots for multiple samples.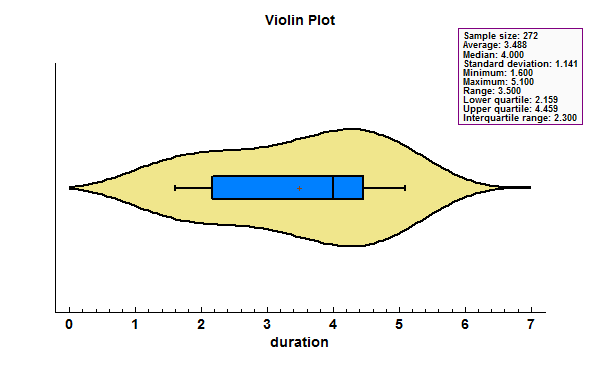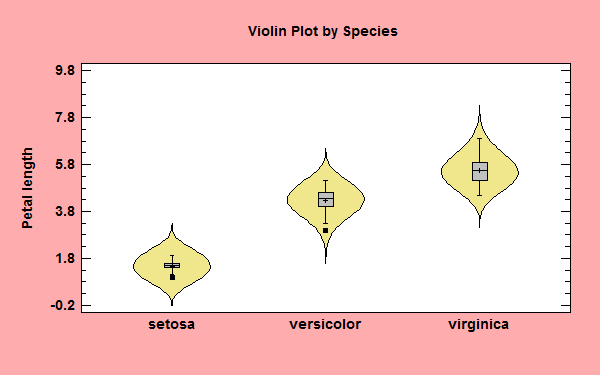 More: Violin Plot Statlet.pdf, Multiple Violin Plot Statlet.pdf
Wind Rose
The Wind Rose Statlet displays data on a circular plot, depicting the frequency distribution of variables such as wind speed and direction. It may be used to display the distribution at a single point in time, or it may show changes over time in a dynamic manner.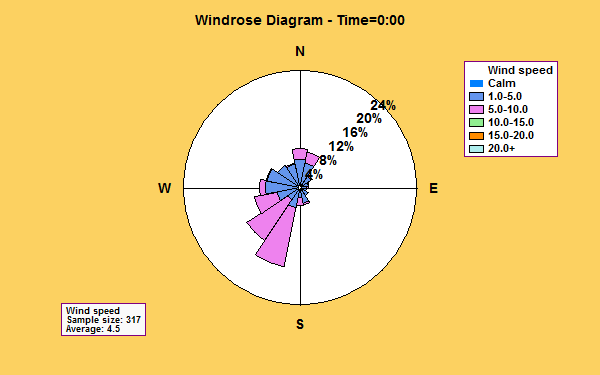 More: Wind Rose Statlet.pdf
Diamond Plot
The Diamond Plot procedure creates a plot for a single quantitative variable showing the n sample observations together with a confidence interval for the population mean. A separate procedure is available for creating diamond plots for multiple samples.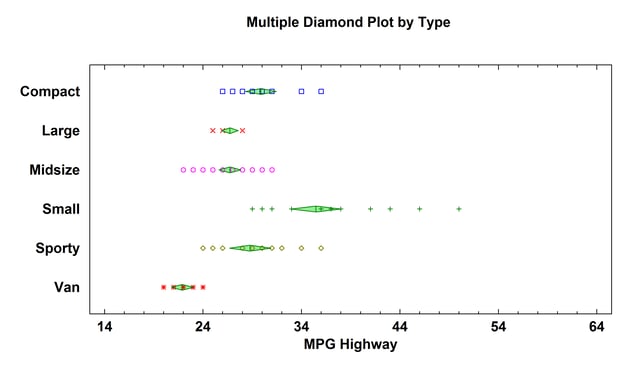 More: Diamond Plot.pdf, Multiple Diamond Plot.pdf
Heat Map
The Heat Map procedure shows the distribution of a quantitative variable over all combinations of 2 categorical factors. If one of the 2 factors represents time, then the evolution of the variable can be easily viewed using the map. A gradient color scale is used to represent values of the quantitative variable.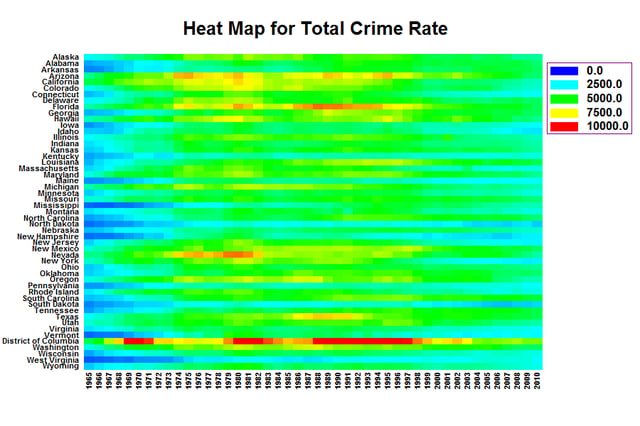 More: Heat Map.pdf
Population Pyramid
The Population Pyramid Statlet is designed to compare the distribution of population counts (or similar values) between 2 groups. It may be used to display that distribution at a single point in time, or it may show changes over time in a dynamic manner. In the latter case, various options are offered for smoothing the data and for dealing with missing values.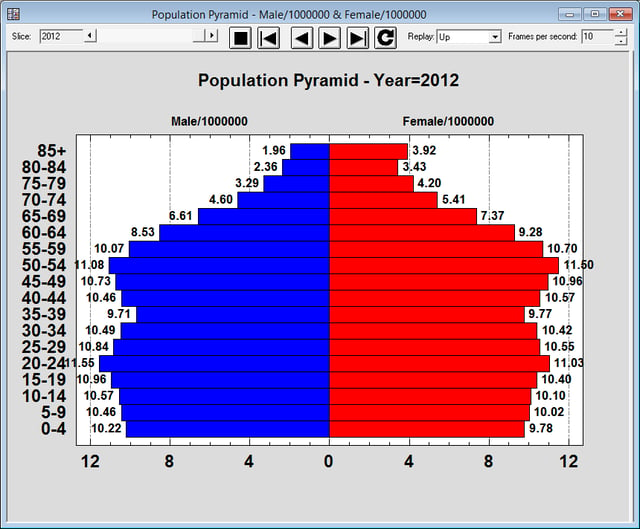 More: Population Pyramid.pdf
Sunflower Plot
The Sunflower Plot Statlet is used to display an X-Y scatterplot when the number of observations is large. To avoid the problem of overplotting point symbols with large amounts of data, glyphs in the shape of sunflowers are used to display the number of observations in small regions of the X-Y space.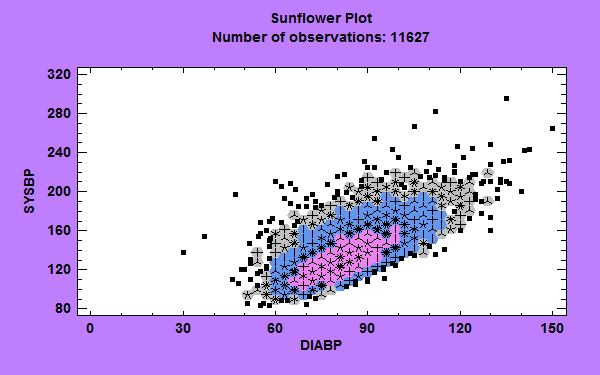 More: Sunflower Plot.pdf